The History of Texas Raiders
As of 2020, there are just five B-17's still actively flying in the world. B-17G Texas Raiders (TR) is one of the most recognized and famous of the Flying Fortresses currently on the airshow circuit. The aircraft has been restored to wartime configuration inside and out by an entirely volunteer group of dedicated supporters. The aircraft has one of the most unusual histories of any existing Flying Fortresses flying today and is one of the most active and visible.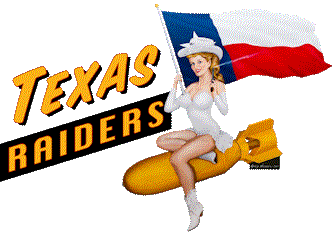 Of all the B-17's ever built, Texas Raiders is credited with the 5th most military time, is the 3rd youngest still in existence, and has served as a Living History museum longer than any other B-17 in the world. As of 2020, Texas Raiders has served in the CAF's Mission of Honor, Inspiration, and Education for 53 years and will continue to do so for the foreseeable future.
Navy Career
The aircraft we know today as Texas Raiders began its long and distinguished career when it came off the Douglas Aircraft production line on July 12, 1945 as B-17G-95-DL, serial number 44-83872 in Long Beach, CA on the last day of B-17 production at the Douglas plant. There were three B-17's turned over to the AAF that day, with 44-83872 being the first of the three. The B-17 was of course a Boeing design, but they were also built by Vega and Douglas during the war.

The war was winding down and there was no need for B-17's any longer, so even though these Fortresses were brand new, they were expected to go straight to the scrapyard. While awaiting that fate however, on July 16th, the Navy come along and chose 20 surplus B-17's to become part of the "Cadillac II" project. On July 21, 1945 44-83872 arrived in NAS Johnsville, PA where she was given Navy BuNo 77235 and then stored for over a year while the particulars of Cadillac II were worked out and equipment installations made ready to proceed.

Cadillac II was the world's first successful attempt at Airborne Early Warning and Control. Today we know this capability simply as AWACS and it is ubiquitous among the world's top air forces. Like the other B-17's, BuNo 77235 was converted to a PB-1W which consisted of sealing the bomb bay doors, adding long-range fuel tanks, completely re-vamping the crew compartments and installing an AN/APS-20 Search Radar with the rotating scanner located in a bulbous housing below the former bomb bay, referred to as a "radome". 77235 joined the fleet in May 1947.

At this time, the aircraft maintained a bare aluminum finish. Having been born into a state of surplus obsolescence, the airplane that would eventually become Texas Raiders now found herself instead at the cutting edge of modern technology.
77235 was first assigned to Squadron VX-4 in Patuxent Pt. NAS. There it joined the "Pine Tree Line" keeping watch for Soviet incursions near the East Coast as one of the first Cold War warriors. In April 1950, 77235 received her first major overhaul and was given a thick anti-corrosion coating and finished in standard navy blue livery.

Coming out of overhaul in November 22, 1950, 77235's was temporarily assigned to FASRON 103 (Fleet Air Service Squadron) where she stayed until being transferred back to VX-4 in January 1952. On June 18, 1952 VX-4 was re-formed into Seasearch-Early Warning Squadron VW-2 and moved to NAS Patuxent Pt., MD. PB-1W missions at the time included Airborne Early Warning & CIC services, Scouting, Anti-Submarine Support, Electronic Countermeasures support, and even weather reconnaissance (reportedly TR was occasionally a "hurricane hunter"). In April of 1953, 77235 was used as the test bed for the experimental Airborne Moving Target Indicator in Colorado Springs, CO.


On June 3, 1953 77235 underwent it's second major overhaul. The second major overhaul was completed on January 15, 1954 and 77235 was assigned to VW-1 Early Warning Squadron calling Barbers Point, HI home for its last operational assignment. By this time PB-1W's had begun to be replaced by the newer and more capable WV-2 Super Constellation (EC-121 Warning Star). Thus 77235's military days were numbered.

On January 15, 1955 77235 made her final military flight to the Storage Facility at Litchfield Park, Arizona. The flying crew chief that day was George Stewart, who dutifully carried out his assignment surely thinking he would never see the plane again. 77235 was maintained in Flyable Storage Status until stricken from record on July 14, 1955 and was officially retired from Naval service on August 25, 1955 following 77 months of service. At this time BuNo77235 had 3,257 hours on the airframe. Of the 12,731 B-17's ever built, only four have logged more military time than Texas Raiders.


Fast forward to 2019 and the Gulf Coast Wing is proud to have as one of its esteemed members a former crewman of PB-1W 77235, Radioman Dan Ragan. We could not be prouder.

2019's annual VW-1 reunion was organized by Dan Ragan and held in Dallas. Dan coordinated a field trip to the Wings over Dallas airshow where Texas Raiders (formerly 77235) was a feature performer and exhibit. Mr. George Stewart was on hand that day and was reunited with the aircraft he helped retire from military service 64 years earlier. Gentlemen, we salute your service!
Aero Service/Litton Industries

On October 1, 1957, 77235 was purchased from the Navy by Aero Service Corp., a branch of Litton Industries for the sum of $17,500. Now a civilian aircraft, she was assigned FAA registration number and call sign "N7227C", which the aircraft carries to this day. Aero Service used N7227C primarily as an aerial survey and photographic platform. When needed, it was even used to carry cargo. Boeing had never designed the B-17 to carry out any of these assignments, but N7227C adapted to each task with ease.

N72227C now called Philadelphia, PA home, but it was hardly ever there. N7227C's career at Aero Service Corp. was busy right from the start. N7227C was initially used as a high-altitude mapping aircraft for assignments all over from the Pacific Coast of the United States, Venezuela, and the length of Chile. Another life cycle for N7227C began when it was converted into an aerial platform for all kinds of satellite tracking equipment.




The University of Alaska contracted N7227C to participate in the recording of the eclipse of the sun from a flight position over Northern Canada. Next, the aircraft participated in the oil and natural gas survey for the North Sea Project off western Norway and Scotland. During its aerial photographic life, N7227C acquired the first complete photographic coverage of the South American continent along with extensive coverage of Central America and the northern regions of North America. The aircraft was used as an electronic geophysical and magnetometer platform for field surveys in the North Sea area North and East of Scotland along with extensive coverage of the North slope regions of Alaska.

It was instrumental in acquiring data which led to the discoveries of some of the major petroleum reserves in the world. In short, her civilian career was every bit as incredible as her military career! N7227C 's workaday life with Aero Service was punctuated by two very noteworthy events. The first was in 1963 when the CBS TV show "20th Century" with Walter Cronkite, was attempting to create an episode called "Cameras Aloft, Secrets Below" which was attempting to portray the incredible capabilities of aerial reconnaissance.

The problem was that the Department of Defense was offering no help at all on the subject. But then the producers heard about Aero Service, and some of the unusual and incredible capabilities their aircraft possessed. To make a long story short, '27C flew a mile above Yankee Stadium during a Giants football game. Transmitting video footage detailed enough to show on TV sets of the era, viewers could see quarterback Y.A. Titttle's name on the back of his jersey and the ball in his hand even though the aircraft was invisible and silent. Amazing!

The second noteworthy event occured on January 1-2, 1965 when N7227C was taken offline, given a temporary olive drab paint job in 305th BG insignia so that she could be used as the backdrop for a certain general's retirement ceremony. The gesture was well received and reportedly brought a tear to they eye of man it was meant for; none other than General Curtis LeMay. No one in attendance could have possibly predicted how bright the long term future was for this particular aircraft. Nor that man and machine would meet again.
Commemorative Air Force Acquisition

By 1963, the fledgling CAF had acquired all ten American WWII fighters and had thus completed what many had considered to be the mission of the organization. Indeed, it was an impressive accomplishment considering that total CAF membership at the time was just 66 and economic funds to support the operation were handled almost entirely by sponsorships. However, a growing number of members wanted to add bombers to the collection. In 1964 both a B-25 and an A-26 joined the fleet. But loftier goals were on the the horizon.

The CAF became set on obtaining heavy bombers to add to the fleet. 1967 would see the acquisition of both a B-17 and a B-24.

Whereas civilian operated B-17's were fairly common at the time, finding an owner willing to sell one was difficult. The B-17's robust and flexible nature made it well suited for all sorts of civilian uses such as cargo, aerial tanker, photographic platform, etc. The CAF was in advanced discussions with the city of Abilene to acquire its "gate guardian" B-17 until the local population got wind of the deal and ensured their Fortress stayed put. Next the CAF became aware of four Bolivian Air Force B-17's that were for sale, but while attempting to overcome the logistical challenges of inspecting, much less flying a B-17 from South America, the Aero Service B-17 became available.

Aero had a declining need for their B-17 and was open to the idea of selling to the CAF for two reasons: first, they were sympathetic to the CAF's mission of preservation & education, and second, Aero Service still had the occasional need for '27C's capabilities. As such, a buyer who was both amenable to the occasional leaseback of the aircraft and who could be counted on to refrain from adding large tanks or other modifications rendering the plane useless for Aero's intended purposes served the company needs quite nicely.

Per a report written by CAF Procurement Officer Col. Marvin "Lefty" Gardner dated April 1967, N7227C had 5,200 hours on the airframe and had flown recently at the rate of 225 hours/year. The operating costs were listed at $90/hour on the airframe and $30/hour on the engines for a total of $120/hour (Compare that to 2020's variable cost of ~$3,500/hour, almost entirely related to the engines).


On September 22, 1967, the sale contract for N7227C was completed for a total of $50,000 through the greatest fundraising effort ever mounted by the CAF. Seventy-two CAF members donated the $30,000 cash portion necessary via sponsorship, with the $20,000 balance being amortized as future leaseback credits to Aero Service. Terms of the leaseback were $120/flight hour plus $1,500/month standby time. Aero would provide all fuel, oil, maintenance, insurance while '27C was in their possession.

At the time of turnover, N7227C's total time on the airframe can be estimated at 5,294 hours. Picking up the CAF's new flagship in Philadelphia, Gary Levitz (of Levitz Furniture) volunteered to pay to fill the B-17's 1,700 gallon fuel tanks out of his own pocket. The receipt shows the cost for this generosity to have been $585. Marvin "Lefty" Gardner and Gary Levitz then promptly flew N7227C to its new CAF home in Mercedes, TX near Harlingen. N7227C became the first B-17 to be purchased and operated solely for the purpose of education and use as a flying museum. Whereas the fledgling CAF successfully overcame quite a challenge coming up with the purchase price in 1967, it turned out to be an exceptionally good investment. Today the aircraft is worth perhaps $8-12M while the original $50,000 purchase price wouldn't be enough to rebuild so much as one of her engines today!
Early CAF Life and Naming Attempts

N7227C was originally kept in the so-called "B-17 Squadron", hangered at CAF Headquarters at Rebel Field in Mercedes, TX. Because of scarce funds, the initial CAF paintjob on N7227C was limited only to deleting "Aero Service Corporation" logo and substituting a very similar looking "Confederate Air Force" logo. The only other change in the first three years was the addition of a small "Stars and Bars" flag in front of the US Flag on the Tail.




The CAF's original curator, Walter Plitt, suggested naming the aircraft "Rebel's Revenge" or "Delta Rebel", which was a nod both to the airfield she was based at and to the tongue-in-cheek name of the organization. In addition, both names honored specific B-17's that had served in the 8th Air Force during WWII with Clark Gable famously serving on the latter. It was no small coincidence that the nose art on these two B-17's bore a striking resemblance to the CAF Mascot, Col. Jethro E. Culpepper. However, repeated delays due to authenticity concerns over color schemes and scarce funds resulted in these plans being delayed and eventually forgotten.

In 1970 when funding was finally secured to paint the aircraft, a paint scheme decision had yet to be made. So help was sought from an expert. Who better to ask advice from than the Honorary Chairman of the American Airpower Heritage Foundation and the undisputed father of strategic bombing, retired General Curtiss LeMay. In a letter dated 3/25/1970 LeMay said in part, "I suggest you drop the thought of trying to depict one airplane…. Try to depict one priceless trait of the US Air Force. 'No Bombing attack was ever turned back by enemy action.' On two occasions entire groups were shot out of the sky, but no one turned back." <The two bomb groups he was referring to were the 100th and 305th. > LeMay went on to say, "Since the 305th was in action longer than the 100th and is still an active wing I would paint your B-17 with 305th markings…. An authentic tail number is 124592 and KYD painted on the side."




LeMay had been the original commander of the 305th BG and thus could have been somewhat biased, yet it was good advice. It is perhaps ironic that LeMay's suggestion of tail number 124592 and KYD is contradicted by his desire to avoid trying to depict one airplane. Indeed, B-17 41-24592 was a B-17F named "Madame Butterfly" assigned to the 305th BG, 366th BS. That aircraft was lost in action on Sept. 6, 1943 and her crew was interned in Switzerland. The name LeMay suggested for the CAF B-17, however, was "Never Turn Back". CAF Director Jack Allerton sent out a memo on April 23, 1970 announcing that LeMay's advice on both the paint scheme and the name would be adopted by the CAF. Both suggestions were appropriate and honorable.

The B-17 came out of the paint shop on July 21, 1970 and this paint scheme is now fondly remembered as the "LeMay paintjob". Corresponding nose art was never applied however, and the name just didn't stick. However, as this research demonstrates, there is much more significance to the LeMay paint scheme than simply that LeMay once flew with that unit. N7227C would have to wait three more years before receiving her permanent name.
Gulf Coast Wing & Tora Tora Tora

The Gulf Coast Wing (GCW) had been established September 19, 1971, by the two men who just so happened to be the primary flight crew for N7227C. However, the new unit was created for, and had only been assigned the Zeroes, Kate, and Val aircraft from the movie "Tora! Tora! Tora!". As the primary B-17 flight crew, Van Skiles and Eddie Burke operated N7227C more than anyone else and frequently operated her alongside the Tora aircraft from 1972 onward.


1972 was a landmark year for another reason as history was made when the entire CAF fleet was invited to participate in the DoD's TRANSPO 72 airshow in Washington D.C. This invitation was quite a feather in the cap of the CAF and the airshow lasted from May 26 – June 4. Twenty CAF aircraft took part, nearly the entire fleet. The festivities culminated in a pre-cursor to 2015's Arsenal of Democracy tour when the B-17 (soon to be named TR) led the 16 aircraft down the Potomac River past the Pentagon, over Washington DC, and down the runway of the new Dulles International Airport.


Unlike the Arsenal of Democracy flyover forty-three years later however, TRANSPO 72's flight path did not cross the National Mall. In a third landmark event, June 25, 1972 saw the "Tora Tora Tora" airshow debut at the inaugural Galveston Air Show. Then, as now, N7227C was a part of it. The GCW leadership had been hard at work putting together some amazing choreography for the Tora act as well as adding smoke generators to a Zero and the B-17's #3 engine. The results were even more spectacular than anyone could have imagined.

Those who flew and witnessed that first show still tell the story. The crews that day were: Bob Garrett, Kent Ross, Bob Bunton and Tora Lead Tom Reedy flying the Zeroes. The Val dive bomber was flown by astronaut Fred Haise. The Kate torpedo bomber was flown by C.A. Skiles. The two Wildcat pilots flying "defense" were astronaut Joe Engel and Gerald Martin. The B-17 was flown by Van Skiles & Eddie Burke with Raymond Perry serving as Flight Engineer.




Though it would be unthinkable today, in 1972 the Tora aircraft lacked radios. As such, the airshow planners had set everything up on a very specific timetable that including introductions, the Star-Spangled Banner, followed by the first act, "Tora Tora Tora" The Tora aircraft dutifully showed up at exactly 12:10 as scheduled. However, the rest of the airshow was running a few minutes behind. Thus, at 12:10 the Star-Spangled Banner was still playing while the first "Japanese" aircraft came in (just like on December 7th!).

At first, the announcer and pyro team were just as shocked as the audience. Both quickly overcame their initial surprise and joined right in with the Tora planes. B-17 pilot Van Skiles performed a one-wheel touchdown with the B-17 while Japanese aircraft and Wildcats swirled all around. After it was all over the Tora aircraft faded away, and a several moments of silence fell over the crowd as the significance of what had just happened sank in.

The one-wheel landing maneuver required a skillful pilot and favorable winds. This maneuver was discontinued following the 1983 season by CAF Chief Pilot J.K. West after Boeing put out a communique warning about undue stresses on the aircraft that such a maneuver caused.
Naming TR, Early Configurations, and GCW Assignment

In 1973, XO Eddie Burke gave N7227C the name we now all know her by, "Texas Raiders". Not surprisingly, a lot of thought went into this. The Texas Raiders name was specifically chosen to simultaneously honor all Texas veterans who served in WWII while carefully avoiding commemorating a single aircraft or crew. Indeed, no previous B-17 had carried the name. Eloquent, appropriate, and unique, the name has stuck for nearly fifty years and we expect it to remain.

Today Texas Raiders is known by her friends simply as TR. Texas Raiders transformation continued. The aircraft has no reason to fly at the high altitudes that her former military or civilian operators required any longer. Because turbocharger systems are very expensive to operate and maintain, these were bypassed by Bob Guenhagen on October 26, 1971 at the Dallas/Ft. Worth Maintenance Wing. Without turbochargers, TR is now restricted to altitudes below 12,000 feet. Since crew oxygen is not needed at those altitudes, the aircraft's oxygen system was also removed at approximately the same time. Also, like all B-17's, the only hydraulic systems on board TR are the brakes and cowl flaps. All other systems aboard the aircraft are either electrical or mechanical.
Photographic evidence of Texas Raiders shows that the co-pilot side of the windscreen had a knockout window installed in approximately 1972. This knockout window remained until it was removed during the major restoration of 1983-1986. Information regarding exactly when or why this window was installed have proven difficult to locate. In 1974, after two years of operating Texas Raiders as a de-facto Wing aircraft, CAF HQ officially assigned Texas Raiders to the GCW. TR has maintained is assignment with the Gulf Coast Wing ever since.
Early Restorations

By 1977, GCW Wing Leader Van Skiles was looking for a fresh uniform to put on Texas Raiders. The first thing he required was "something that looked good in an airshow". The splotchy green camouflage of the LeMay paintjob was indeed accurate, but it didn't have much pizazz. Second, Skiles had been struck by one of LeMay's pieces of advice, "drop the thought of trying to depict one airplane". It bothered him that TR was carrying the tail number of just such "one airplane". The search was on.


Searching through countless period photos, Van Skiles found a picture one that now hangs in the hallway of our Conroe hangar. From the tail number we know that the bomber in the frame is "Princess Pat", a B-17G that served with the 533rd BS, 381st BG during WWII. Van Skiles liked the paint scheme in the photo because the "red would look good in an airshow". Quite deliberately, Van Skiles had no intention of depicting Princess Pat. TR would use her own tail number, not Princess Pat's. TR would have her own Nose Art, not Princess Pat's. TR would have blue outlined national insignia, not Princess Pat's red outlined insignia. TR would carry the same "VP X" markings but those weren't unique. Four different B-17's in the 533rd BS carried "VP X" during the war. The new uniform was set! TR's markings are accurate for a non-specific B-17 serving in the 533rd BS, 381st BG just as intended.




In addition to the new paint, an early "A-1" Top Turret shell (common to B-17F's) had been acquired and installed as well as an empty Ball Turret shell and Tail guns. While none were operational, the three additions went a long way towards returning TR's look to that of a WWII B-17 bomber. Immediately after the guns were installed, in September of 1977, TR went in and out of the paint shop before quickly making her re-introductions at AIRSHO 77 in October. Photos of TR's left side from 1977-1983 reveal an interesting oddity: reversed squadron markings that read "PV". The squadron markings were corrected in the 1985 restoration.


During this period, Texas Raiders' interior was decidedly "non-standard" for a B-17. Aero Service had removed all the bulkheads, installed a single flat cargo floor from the flight deck back to the tail wheel and installed a large cargo door on the left side. For the first 16 years, the CAF left the aircraft in this same configuration. Perhaps one benefit was increased seating space. Wing Newsletters from the early 1980's indicate a "pecking order" for crew requests that specify boarding priority based on sponsorships, memberships, etc. But one of the striking limitations is that "only 18 passengers will be allowed not counting pilots". Today, of course, the maximum allowed crew/passenger count is twelve.

Although with an authentic B-17 interior, seating is not as prolific as it once was. In 1980 the Cheek Gun Windows were installed on both sides of the aircraft. This obliterated the Nose Art and the short lived "Large Flag" artwork painted by Col. Jim Bowers. Late in the same year, the two small windows next to the Cheek Gun Windows were installed, thus completing the window restorations in the nose, but once again obliterating the flag portion of the Nose Art. Photos taken at AIRSHO 80 in October show a smaller Texas flag painted on the right side.

There is some evidence that the nose art on the left and right sides may have been different for 1-2 years. In 1982, the very first "Bomb Girl" art appeared on the nose of the aircraft. Today, over 40 years later, the wisdom of choosing the 381st BG paint scheme has passed the test of time. The 381st paint scheme has continued virtually unchanged through over forty years and three re-paintings of the aircraft. TR's nose art, however, has evolved and changed no fewer than eight times. A photo collage timeline is shown here.
Total Restoration 1983-1986

In January 1982, Pat Elliott, was appointed Restoration Officer and given the daunting task of project overseer for the conversion of TR from a modified B-17 back to that of an authentic B-17G. Work began right away and during the next 4-1/2 years, all the modifications that had been done by both the Navy and Aero Service, ultimately restoring TR to the configuration of a B-17G, looking every bit the part of a combat ready 8th Air Force heavy bomber.

Nick-named "Col. Cool", Pat Elliott set out that first year intent on obtaining all the authentic equipment that was missing from Texas Raiders. The success of his mission is as impressive today as it was then: Pat obtained a fully functioning Ball Turret from a gentleman in Bellaire, TX for $2,500. A correct "A-6" Top Turret shell had been located at Barksdale AFB by Ronnie Grupe and an even swap for TR's "A-1" Top Turret shell (used on early B-17F's) was made by Buck Rigg. A nearly complete Top Turret mechanism was found and purchased in California.




From a gentleman in Tacoma, WA, a Chin Turret was acquired for $1,500. From the Air Force Aberdeen Proving Grounds in Maryland, B-29 Bomb Racks were acquired by Tommy Garcia (and cut to fit) for TR. One of the most valuable finds was a complete set of blueprints on microfilm, located and obtained by Tommy Garcia. The stage was now set, but the intent was to keep the aircraft flying each season, so the initial schedule for installing most of these big-ticket items was to take place over several years at least. The first improvements began between the 1982 and 1983 flying seasons. These were primarily inside the aircraft, which was sorely needed.

Prior to the winter of 1982/83 the interior of TR consisted of a straight cargo floor running from the flight deck all the way to the tail wheel with a large cargo door on the left side between where the window and APU are today. Pat Elliott's team replaced all that. Using original blueprints as their guide they installed correct decking, bulkheads, and framing to recreate the Waist, Waist Windows, Ball Turret deck, Radio Room, and functioning Bomb Bay doors.


Finally, twelve .50 caliber M2 machine gun replicas built by Gary Judkins, Eddie Beasley, and Tommy Garcia using authentic barrels, triggers, and handles (but with inert fabricated aluminum receivers). These were installed in every original gun position except for the Chin Turret which was still awaiting install.

The Nose section, previously just empty, began taking shape with a Bombardier's panel, a Navigator's table, and brackets for various equipment awaiting installation. It was just a small taste of improvements to come, but General Curtis LeMay was on hand early in 1983 when restoration work was paused for the flying season. Upon touring TR, LeMay is quoted as saying, "Hell, we didn't have anything this good in Europe."

In September 1983, at the end of another successful Heritage Tour, a small fuel leak was detected in a main tank vent line. Due to the nature of the problem, the tank had to be removed, which is a time consuming and labor-intensive job necessitating removal of most of the wing panels. A hangar to do the work was necessary. A hangar was found, but TR was too big to fit.

Maintenance Officer Dellon Bumgardner solved the problem by taking the wingtips off. One thing led to another and finally the decision was made that "no time like the present". Texas Raiders was being taken down for a full-scale nose-to-tail, wingtip-to-wingtip restoration and re-fit the likes of which no one had ever seen before.

From September 1983 to June 1986 nearly every piece of TR was taken apart, inspected, repaired, repainted, and most importantly restored to B-17G standard.




The odd Cargo Door installed by Aero Services wa removed and fuselage restored to original configuration. CAF Airbase Arizona donated an APU. The Chin Turret was installed. The Top Turret mechanism, though restored and ready, was subject to the decision to leave it in the hangar to facilitate tours of the Flight Deck.

The Tailgunner's position was gutted and re-fitted. The Radio Room was filled with an original and complete radio suite. The Bomb Bay racks were installed along with a bomb winch and realistic-looking fiberglass bombs. The Nose Compartment was filled with complete Navigation and Bombardier equipment including Drift Meter, Radio Compass, and an authentic Norden Bombsight. Throughout the aircraft scores of peripheral equipment such as F-1 and A-4 oxygen tanks, O2 regulators, Heated Suit receptacles, and Comm ports appeared.

The Tokyo Tanks were replaced and became fully operational. The entire electrical system was gutted, re-designed by GCW member Ed Schwertfuhrer and installed by Continental Radio Company. Scott Royce was instrumental in completing the metal work. Tommy Garcia and Gary Judkins were given the most credit per the Restoration Officer, but more than a dozen GCW members distinguished themselves over the course of the project.

Upon final reassembly in late 1985, the whole aircraft received a new paintjob. New nose art was applied by Otto Dickey using airbrush techniques to create a design that would last longer than any other before it. This restoration was done with volunteer labor and cost more than $300,000. Texas Raiders made her triumphant return to the airshow circuit on June 21, 1986 at the Brazoria County airshow. Later the same year TR was honored by AIR CLASSICS Magazine as the "best restored B-17G bomber currently flying in the world."
Early Tours outside the "Forty-Eight"

Though the realities of the modern world increasingly make international touring less and less of a possibility, it wasn't always that way. In fact, Texas Raiders has been South of the Border on numerous occasions. In the late 70's, TR toured in Monterrey, Mexico. In June 1982, she was featured at an airshow in Hamilton, Ontario, Canada. Raiders then had a trio of trips South of the Border starting with Cuernavaca in November 1988, then Guadalajara, and finally to Monterey in September 1991. Sadly, TR has not been able to visit to our Southern neighbor since.
1993-1994 – Corrosion Control and Repainting


At the conclusion of the 1993 flying season, TR was taken off-line again at Ellington Field for corrosion repairs, corrosion control, and a full re-painting. TR's large size had frustrated previous attempts to find her a hangar home. The resulting year-round exposure to the elements had continued to take its toll on her aluminum skin and even some internal surfaces. The corrosion was most severe in the stabilizer areas. The aircraft was stripped down to bare metal and every square inch was inspected.


As in previous efforts, the corrosion was overcome, repaired, and the aircraft repainted. Because of the re-paint, yet another Nose Art version appeared. This time the nose art was designed and painted by renowned warbird artist Jackie Newcomer. Jackie's nose art remained unchanged on TR for 23 years, longer than all previous nose art versions combined.

The 1993 corrosion control and repaint was a tremendous manual effort with major contributions from Pat Elliott, Everett Gibson, Ole Nygren, Ken Hyman, Dan Morgan, and Frank Wheeler among others. Other costs associated with this effort, including paid work by Cooper Aviation totaled approximately $180,000. This restoration was documented by PBS with their documentary "Honor Squadrons". DVD's are still available via
Amazon as of this writing. At the conclusion of the restoration in March 1994, the aircraft returned to the airshow circuit where it was awarded "Best Bomber" by the Experimental Aircraft Association's Sun and Fun Air Show and "Aircraft of the Year" by the Tico airshow in Florida.


Epic Canadian & Alaska Tour

In the summer of 1997 TR set out on an ambitious two-month tour that included ten stops in Canada and three in Alaska. TR took off from Ellington Field, Houston, TX on May 31st at maximum gross weight. Her Tokyo Tanks filled, the crew had every intention of flying direct to Calgary, Alberta, Canada. However, weather was encountered near the Canadian border and so TR turned around for an impromptu stop in Billings, MT after 9-1/2 hours in the air, perhaps the longest Fortress mission since PB-1's flew for the Navy!

Billings became the kickoff point for this epic two-month tour and was enjoyed by the crew and locals alike. After clearing customs in Calgary, the Canadian portion of the tour began with gusto on June 5th in Edmonton, Alberta. A 30-hour inspection was also performed by the crew in Alberta before moving on to Whitehorse, Yukon on the 12th. From June 19-23, TR visited Fairbanks, AK, then took a three-day break for a crew change.




Then it was off on June 26 to Anchorage where she stayed until July 3. The next week was spent in Alaska's capital, Juneau. The 15th saw a return to Canada with a four day stop in Peace River, Alberta,
followed immediately by Dawson Creek 7/18-24. From 7/24-28 TR participated in the Prince George, British Columbia Airshow before heading to Calgary on the 28th to close out the month. TR transitioned late on 7/31 to Red Deer, Alberta until 8/4.

The weekend of 8/4-5 was spent at the Cranbrook, BC airshow followed by a two day stop in Kamloops, BC. August 7-9 was spent at the Abbotsford, BC Airshow before returning South of the Border again with a stop in Helena Montana August 10-13 and Colorado Springs 8/14-15. On 8/17, following a triumphant tour, TR headed home to Ellington Field.

It was quite a journey. Over twenty years later the crewmembers are still talking about that trip! Curt Rowe, Frank Hale, Len Root, and Ken Hyman are all current members that can tell you tales from that trip. International visas, customs protocols, increased costs of fuel, and an ever-changing political climate have made repeating these international trips of the past difficult, however. We hope to visit our friends in the Great White North again someday!
Living History Flight Experiences

By the late 1990's, Warbird operators across the country were in crisis. Particularly the ones with large, multi-engine aircraft with equally high operating expenses such as Texas Raiders. The costs of maintenance, parts, fuel, oil, insurance, etc. had risen to a point that the traditional methods of fundraising could not keep up. Understanding that an era might otherwise come to a close, the FAA agreed to permit what is now known as a "6802L" exemption for the first time in 1998.

The 6802L is what allows Texas Raiders and other warbirds to offer Living History Flight Experiences (LHFE) to the public. Each operator has its own 6802L and it is good for just one year. Each year, the FAA reviews the operator, its safety record, procedures, maintenance records, etc. and decides whether or not to renew the 6802L. The CAF is proud to have had an unbroken record of 6802L renewals since 1998.

The revenues from LHFE, which are tax deductible to the rider, are also our greatest financial lifeline. Quite literally, without this revenue stream, Texas Raiders would be unable to cover its operating expenses and be relegated to becoming just another static museum.
2001-2009 Wing Spar AD

In 2001, the Gulf Coast Wing received a notice of an FAA Airworthiness Directive (AD 2001-22-06) which had been issued to all B-17's in the United States. This AD required inspection of the aircraft's wing spars and associated parts and sub-structures for corrosion. Texas Raiders completed the rest of the 2001 flying season with her last public appearance being a flyover and airshow to commemorate the opening of the new D-Day Museum (since renamed the National WWII Museum) in New Orleans December 6-9, 2001.

TR then relocated to Hobby Airport to begin the inspection. TR was parked at a space near the Rowan Drilling hangar, but outdoors since a indoor space could not be secured. Under the leadership of Ken English, GCW volunteers began disassembling the bomber. Flight Vehicles, Inc would perform the FAA inspection. Initial estimate given was for six months. However, it was late fall before the inspection was complete due to the scope of work being increased as additional corrosion was found. All 64 terminal end bolts were found in need of replacement.


Significant corrosion was found inside both wings. Three upper spar chords needed replacement. Of greatest impact, however, was found in the wing spar terminal ends (WSTE), which are 15" long structural components. Four WSTE represent the attachment point of each wing to the fuselage. The upper aft WSTE on both wings were corroded beyond repair and had to be replaced. At that time, TR was the only B-17 whose AD inspection requirement replacement rather than just repair of these particular components in the wing spar area. Whereas other wing components could be manufactured relatively easily, the WSTE presented a unique challenge.


Making replacements for these wing spar terminal ends (WSTE) became a 2-1/2 year odyssey. To begin with, neither Boeing nor the USAAF had ever carried WSTE as a spare part. The rationale in WWII was that if a WSTE was damaged, the surrounding critical structure of the aircraft must also be beyond repair. For a combat-focused organization maintaining aircraft that weren't expected to last long enough for corrosion to be an issue, this was the correct approach. The next logical step was to have a machine shop make new WSTE from Boeings original spec, AN-QQ-S-756.

This is when it was discovered that the closed dies used to forge these parts no longer existed. Re-creating dies would be cost-prohibitive. An equivalent part could be made without a die using equivalent materials and modern machining techniques but doing so would require FAA approval. Further, the 21st century spec was now in place. Boeing was asked for their help in the process, but they politely declined due to a corporate policy of not getting involved with the restoration projects of aircraft that were no longer in production.

Boeing can hardly be blamed for this policy. We live in a litigious world and projects like this represent significant risk. An engineering firm with Warbird experience, Aerodesign Inc., was contacted and they agreed to take on the project. The design fee was expensive, driven more by liability insurance than the engineering. The design was finished in August 2003 and approved by the FAA in December. A trusted machine shop was found by Charles Hutchins and an order was immediately placed with Alan Reed of Reed Instruments.

Each part was machined from a single block of forged 4340 steel billet, heat treated, and plated per the new specs. The two new WSTE were delivered to the GCW August 2004 along with fitted and matching spar chords. With the critical parts in hand, GCW was now faced with an untimely notice to move TR due to airport improvements that were underway.

In December 2004, TR moved from its exposed outside location to the Houston Aviation Heritage Society's (HAHS) hangar for the repairs and reassembly to begin. This was no small task. Texas Raiders had sat outside, exposed to the elements, immobile for six years. Her engines had been removed and pickled, and her control surfaces had been stored inside, but the remainder of the airframe had suffered from the hot, humid, South Texas weather. Work was begun by a combination of GCW volunteers and Flight Vehicles, Inc. In May of 2005, after just a few months of work, the GCW was notified that Texas Raiders had to find another home because the HAHS needed their space back. After a short, but frantic search, Millionaire FBO made their WR-3 hangar available for the project.

The main problem with hangar WR-3 was that it was neither tall enough nor wide enough to fit TR. The vertical stabilizer and outer wing panels were removed. This arrangement would suffice just fine until most of the work could be completed, although much work remained. In addition to the corrosion work and reassembly of the aircraft, interior projects such as refurbishing wood tables, floors, fabric seat covers, fuselage plexiglass, and cockpit glass were all to be replaced. Equipment such as the Norden bomb sight, machine gun replicas, flight instruments, and other equipment were scheduled to be refurbished as well.




While additional corrosion was found in the stabilizers and upper wing panels, this too was mitigated. The engines had to be re-hung. Flight controls were to be re-attached. When most of the work was completed, TR could then be rolled out onto the ramp and to have her vertical stabilizer and outer wing panels reattached.

All of this repair and reassembly work would require vast sums of money, tremendous amounts of volunteer labor, and a good project manager. All were in short supply and this caused unforeseen delays. Unlike previous restorations/corrosion repairs, this time TR would have to forgo the usual expensive new paint job as there just weren't any funds available. Naturally, the availability of money was the lynchpin of this project. Most delays were rooted in lack of funds to proceed. Walt & Sandy Thompson were instrumental in securing funds from a number of sources in addition to the proceeds from the annual Wings over Houston airshow which TR was still benefitting from.

New sponsorships were acquired and a matching grant from CAF HQ was instrumental. Volunteer labor was available, but midway through the 8-1/2 year project the efforts lacked coordination, morale was low and results were mixed. Chuck Conway, assisted by David Carr, took over as the Maintenance Officers in early 2007 and immediately reorganized and redirected volunteer efforts. Chuck implemented a regular, more crew friendly work schedule as well as organized teams to tackle each sub-project in a coordinated, efficient, and effective manner. Morale soared and progress increased at a rapid rate.

It had taken over four years to reassemble Texas Raiders, but finally and triumphantly, TR returned to the sky on October 14, 2009. Just one week later TR flew the short distance to Ellington Field to participate in the Wings Over Houston Airshow as a static display. Texas Raiders had emerged from the greatest challenge of her CAF career in no small part because of the undaunted efforts of dozens of hardworking members of the GCW led by Ken English, Al Maxwell, Chuck Conway, David Carr, Ken Hyman, Bud Bearce, Ole Nygren, Gary Barber, Tom Taylor, Randy Wahlburg, Susie Bedlow, Walt & Sandy Thompson, Tom Newton and many others.

Total cost of the 8-1/2 year project was nearly $700,000, not including volunteer labor. This nearly bankrupted the GCW and left it deep in debt. But the Gulf Coast Wing and its volunteer members are a hardy bunch. Yet another seemingly insurmountable challenge had been met and overcome. Following TR's return to flight status, a directive was handed down from CAF headquarters requiring that Texas Raiders be kept inside a hangar when not conducting tour operations. Whereas this initially caused some consternation and financial headaches for the Wing, the long-term results are decidedly positive. Texas Raiders was moved North to Spring, TX at David Wayne Hooks airport into the Tomball Jet hangar away from the salt air and the effects of mother nature. Texas Raiders now had a home.
Back to the Airshow Circuit


Starting with the 2010 flying season, TR appeared at dozens of major airshows and touring-locations throughout Texas and the Midwestern U.S, celebrating the 75th anniversary of the first flight of the B-17 in the summer of 2010. TR attended the Thunder Over Michigan Airshow that summer as a part of the last great gathering of B-17's. Eight beautifully restored Flying Fortresses attended and all eight flew a single formation flyover on Saturday. As of 2020, just half of those eight are still actively flying. We may never see the sight of such a formation again.

In 2013 a major upgrade was made to TR's flight deck. Whereas every effort has been made to keep the flight controls and gauges in their original condition, certain items are simply a must in modern aviation. It was at this time that a Garmin GPS/Radio stack was added to the ceiling of the flight deck right above and in between the pilots. This allowed the original flight instruments and controls to remain mostly original while bringing modern communications, navigation, and weather forecasts to the flight crew. This arrangement does the work of and eliminates the need for two of the original crewmembers as well as the radio room and navigation desk.


On May 8, 2015, Texas Raiders took part in the historic Arsenal of Democracy Flyover in Washington, D.C. on the 70th anniversary of VE Day. Fifty-five restored WWII aircraft of all types including trainers, attack, bombers, fighters, and cargo took part. Each aircraft had a Secret Service agent on board. The formation's flight path was carefully prescribed and allowed no deviation. Texas Raiders and the other 54 aircraft flew at 1,500 ft East down the Potomac River, over the Lincoln Memorial, WWII Memorial, Washington Monument, down the National Mall (which was unprecedented), past the US Capitol before turning South down the Anacostia river. The aircraft were flown in 15 formations, in historical sequence, and represented battles from the Pearl Harbor era to Midway, D-Day and Iwo Jima. The final group was a missing-man formation.

Naturally, the safety of our passengers and crew are paramount. Texas Raiders, like all vintage warbirds, is a priceless, irreplaceable aircraft. The GCW has always operated Texas Raiders with an abundance of caution, flying only when all mechanical and weather conditions are right. Whereas no one can control the weather, the GCW maintenance team works tirelessly to keep TR in top running order. Operating under a mantra of continuous improvement, several important changes to TR's ongoing preventative maintenance schedule have been implemented.

A few examples include the addition of external cartridge type oil filters, an improved spark plug regimen, programs to develop individual maintenance expertise, and the acquisition of an additional spare engine and propeller. One of the most important new practices is the regular analysis of oil samples (analogous to the blood tests that a doctor reviews at your annual physical). Whereas all vintage aircraft experience mechanical issues from time to time that result in canceled flights and even canceled events, Texas Raiders has experienced a much lower incidence of such issues as a result of the continuous improvement programs. The resultant increase in aircraft availability has resulted in happier airshow promoters, airshow attendees, and of especially those who experience Living History Flights.

In 2015 a chase truck and trailer was acquired by the GCW. This very welcome addition allows Texas Raiders to travel largely relieved of needing to carry the bulk of spare parts, tools, and PX herself on most tours. The volunteer Maintenance Crew has every right to be proud of their accomplishments in this area and we all thank them tremendously for their contributions.


Texas Raiders - I Flew in a Bomber !
2017 Repainting


By the end of the 2016 season, Texas Raiders' well-worn paint was reaching a critical point. TR had not been repainted since 1993, the longest she had ever gone. Whereas in 2009 the paint had been touched up during the Wing Spar AD, a full repaint was desperately needed. Several years of successful touring had left the GCW with enough money on hand to send TR into the paint shop. Up until this point in her history, TR had a normal cycle: Every 8-10 years she would go into the shop for significant corrosion repair, abatement, and re-painting.




However, this time was different: Since 2010 TR had finally been moved away from the salt air, had been kept in a permanent hangar for the first time, and since 2015 TR had been given an annual Corrosion-X treatment on all internal surfaces. As a result of all this, the causes of corrosion had abated significantly, and upon inspection, no significant structural corrosion was found. But it was still true that TR's paint had soldiered through 23 years of wear and tear. Surface corrosion was indeed an issue. It was time for some "body work" and a fresh uniform.


In December 2016 TR went into the paint shop at Aerosmith Aviation in Longview, TX. The plane was stripped to bare metal for inspection. This time some minor surface corrosion was found, but for the first time, there was no significant internal corrosion to repair. Hooray! There were challenges to overcome, however. Apparently, in 1993 Cooper Aviation had used a significant amount of patching compound had been used in various places where dents had been repaired. Much time and money was spent replacing the patching compound with straight aluminum panels.

Correct paint tones were researched exhaustively, and the 2016 paint job is believed to be as close to 100% accurate as TR has ever worn. Randall Langley, of PPG, was instrumental in having his company donate the paint for this project. Labor was a combination of contracted work from Aerosmith Aviation and volunteers from the GCW led by Tim Searls, Rex McLain, Bruce Guest, Jed, Ben, & Jake Doggett, and Larry Doucette. In February 2017, Texas Raiders rolled out of the paint shop looking like she had just come off the production line.




Since the Nose Art had to be reapplied in any case, the Wing used the opportunity to update the style and form. A professional artist well-known for his Vargas-style Warbird nose art by the name of Gary Velasco was brought in to paint the new version, with stunning results. Public reveal of the new paintjob occurred on March 8, 2017. We couldn't be more pleased with the results. Total cost for this project, even with volunteer labor and donated paint was ~$190,000.
Today and the Future

Having started in Galveston, and since moved several times in the Houston metro area in a steady march North, the Gulf Coast Wing is now based in Conroe, Texas. Since 2010, Texas Raiders has appeared at hundreds of local airports and dozens of airshows across the country to hundreds of thousands of visitors and honored guests carrying out the CAF Mission of Honor, Inspiration, and Education. Texas Raiders continues to be operated and maintained by an all-volunteer force. For every flight hour, it is estimated that at least 30-maintenance hours are spent. Today our Maintenance Crew is led by Tim Searls and Bruce Guest.




Even with volunteer labor, the costs of operating this irreplaceable vintage aircraft are immense. Direct operating costs run approximately $3,500/flight hour. Indirect costs such as hangar, insurance, etc. are in addition to that. All of these costs rise every year. Some day in the future we may lose the battle to keep TR flying, but today the Gulf Coast Wing is proud to continue to present CAF B-17G Flying Fortress Texas Raiders once again.

We cannot thank our veterans enough for the freedoms they have given us. We also believe that educating the younger generations about where those freedoms came from is critically important. Your support in the form of touring our aircraft, taking a Living History Flight, or making a donation of any kind assists the Gulf Coast Wing in keeping this aircraft flying and continuing on its Missions. We thank all our dedicated crew, fans, and sponsors for their continued support!



This article is one of a series called:

Setting The Record Straight
Compiled by Col. Kevin "K5" Michels
Special thanks to LC "Buddy" Cooksey, Pat Elliott, Brad Pilgrim, Ken English, Curt Rowe, Everett Gibson, Scott A. Thompson, Walt Thompson, Dan Ragan, Chuck Conway, Barney Oldfield, and many others for their invaluable input